---
DEWABRATA DANCE PERFORMANCE
In a bright cool evening of Saturday, September 13, 1997 a Javanese classical dance performance was held in the magnificent Mangkunagaran Palace, Surakarta.
The Host, His Highness KGPAA Mangkunagoro IX flanked by his wife Kanjeng Putri Mangkunagoro and his families – The Princes and Princesses with dignity welcomed warmly the honorable guests with charming smile.
As if the blue clear sky decorated with thousands of twinkle stars and the romantic beautiful moon were witnessing an extravagance event dedicated to the adorable Javanese ancient culture.
The hosts and the guests all looked elegant, wearing traditional batik dress with garlands of melati flowers were enjoying happily this rare occasion. Most of them had participated in a day long seminar of Joglosemar development.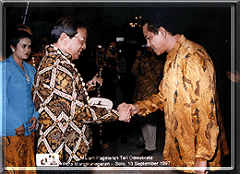 This glamorous evening gathering wishes to indicate that preserving our own culture could not be separated from the activities of modern development. Among the distinguished guests were :
The Minister of Tourism, Post and Telecommunications ad – interim Ir. Akbar Tanjung with his wife
Director General of Tourism Dr. Andi Mappisameng
Director General of Radio, Television and Film Dipl. Ing. Dewabrata with his wife
The King of Surakarta Sri Pakubuwono XII accompanied by several royal families of Surakarta Palace
Some Dignitaries, High ranking Government Officials and Cultural Experts from Jakarta, Yogyakarta and Central Java
THE GAMELAN SET - KYAI NOWO SEMAR
In his welcome speech, The Host KGPAA Mangkunagoro IX supports with determination the development of Joglosemar.
In a surprise move he had donated one set of Javanese Orchestra Instruments – Gamelan to The Government of Indonesia.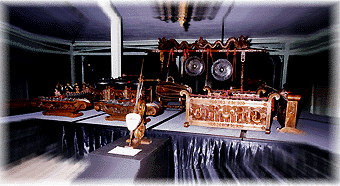 The Gamelan which is named by him - Kyai Nowo Semar should be put in the new Adisumarmo Solo International Airport. It is a proof that Puro (Palace) Mangkunagaran remains a fortress of highly valuable Javanese culture. The Gift from Sri Mangkunagoro IX has been received by Minister Akbar Tanjung on behalf of the Government. The audience was touched deeply by His Highness commitment to Joglosemar development especially in the field of culture and tradition, applauded loudly as a sign of high respect.
Note : This Gamelan set with pamor (special surface pattern) was a masterpiece of Ki Hajar Satoto, a noted artist, younger brother of Retno Maruti.
RETNO MARUTI
In the World of Javanese classical dance her name has been known for more than three decades.
The young cute girl, Retno Maruti, was the "Golden Deer" in Prambanan, Ramayana dance performance.
Through a long journey in the World of artistic dance, by learning, exercising and working hard, being a student of maestros of Javanese Royal dance from Surakarta and Yogyakarta, she became an expert of Javanese dance and at the same time a famous dancer herself.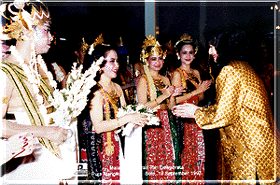 With her broad knowledge and ability, she created several great works of dances such as :
Damarwulan (1976)
Abimanyu (1976)
Sawitri (1977)
Palgunadi (1978)
Rara Mendut (1979)
Sekar Pembayun (1980)
Ciptoning (1983)
DEWABRATA
It is the newest masterpiece of Maruti, as usual the movements of the dance based on Javanese classical dance particularly the Bedaya – a sacred Javanese court dance.
In Dewabrata performance, a recital of a poetic dialogue (locally known as Langendriyan) is supplemented.
(Dewabrata is another name of Bisma when he was young).
For the story of Dewabrata or Bisma please click Wayang Puppet Theatre under the subtitles Mahabrata and Baratayuda
The dance performance by Pranecwara Dance Group led by Retno Maruti in Puro Mangkunagaran that evening was very impressive, demonstrating a perfect skill of professional presentation.
The executive producer of the performance was Ms. Maria Hutomo, a Javanese dance teacher at Jakarta Institute of Arts (IKJ).