---
G.R.Ay. Koes Moertiyah Wirobhumi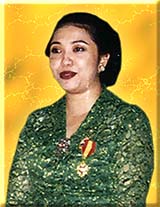 This Princess is the daughter of Sri Susuhunan Pakoe Boewono XII of Kraton Surakarta. She is no. 25 child of the King to be precise. Her close friends just call her Gusti Mung (Gusti = Prince/Princess). It is her firm wish to preserve Javanese Art and Culture, notably the court ones. That's the reason, she did not hesitate to be a University Graduate with the subject of Javanese Literature.
Since a small 'kindergarten' girl, she had started to learn Javanese dance. The movement of 'Tayungan' /walking with gamelan accompaniment was a very strong factor in dancers' ability to adopt the art of dance. Firstly, she/he should become familiar with rhythm of the gamelan and could move freely and correctly and then elegantly in accordance with the gamelan music. Secondly, she/he should have strong legs, feet and body and flexible at the same time to follow every kind of movement.
Thirdly, with regular 'Tayungan' exercises, one could have a stronger endurance. At ten years old, she began to learn Bedaya and Srimpi dances regularly, twice a week. As a result of devout training, she was entrusted to dance performance.
In 1973, as a small teenager, she was given a chance to dance Srimpi at Catur Sagotro event or Javanese Kraton Festival. Outside the kraton walls, she had danced several times. Such as Bedaya Daradasih in 1982 in Puro Mangkunagaran
1984 in Japan and Hongkong
1992 in Europe and the U.S.
Her devoution to court dance is so great, that she is assigned by the Kraton to be in charge of the management of court dance preservation and development. A job she cares with all her heart, she even supervises directly. A lot of dancers, local and foreign people have followed her course, held at the kraton.
Bedaya Ketawang
As an insider who knows the core of Bedaya Ketawang, it was a challenge for her to dance it. So far she is the only daughter of Sri Susuhunan who has performed in this dance ritual. From 1988 to 1992, she has performed five times. She is OK, as she knows how to arrange an 'appropriate permit' and she has a strong believe in her mind that she is taking part in the dance of fertility rite. During the dance, she had experienced strange things, which are difficult to explain by logic.
Also the audience might see strange things. Some of them could see more than 9 dancers, other 'sees' the dance was held in a very beautiful place uncomparable to any beatiful place in the world. The King's wives and daughters are allowed to dance Bedaya Ketawang. Her mother Ms. R.A. Pradapaningrum, a mother with 10 children was still performing the dance. Bedaya Ketawang, must be performed once a year, even in the time of difficulties.
The Course of Master of Ceremony
Under her supervision, the kraton is organizing M.C. Course or in Javanese Pambiworo in Marcukundo Hall. The participants are learning many aspects of art, culture and rituals in Javanese society. They learn also the use of proper Javanese language and some deeper lessons to be a qualified Javanese M.C.
At present, she lives happily in a cozy house outside the kraton, with her husband, K.R.M.H. Wirobhumi and her small daughter. She has a tight daily schedule to work for Kraton Surakarta together with some of her sisters, brothers and relatives.
(Suryo S. Negoro)