---
SURROUNDINGS
(Yogyakarta)
KALIURANG and MT. MERAPI
It is located on the south slope of Mt. Merapi, a cool green hill resort 25 km north of Yogya. It is a pleasant place to relax for forest walk. There are waterfalls, swimming pool and superb view to the top of Mt. Merapi, in Plawangan (1260 m) a vulcanology post that monitors the volcano (2911 m) in the west of Kaliurang is a small hill Turgo from here on a bright day the views to the peak of Merapi and the South Seas are perfect.
Climbing Merapi could be done through several passage, usually from the Village of Kinahrejo, east of Kaliurang. The village of Selo, located north of the mountain is another post for climbers, comparatively it is safer. Climber should start around midnight to reach the summit early in the morning when it is free from clouds and mist.
PARANG TRITIS
The sandy beach is located 27 km south of Yogya. The famous shifting dunes backed by high cliffs are stretching along the coast. For many people it is a place for superstition 'The Territory' of Kanjeng Ratu Kidul, The queen of the South Seas. The visitors are advised not to wear green color clothes while visiting this place, Parangkusumo and Goa (cave) Langse are the favorite places for meditators. On certain dates, Karaton Yogyakarta sends offerings, called the Labuhan.
Other beaches on the South Coast are; Glagah, West of Yogya, on the way to Wates, with its white sandy beach, Baron Beach, Samas Beach, Kukup Beach and Krakal Beach located around 50 km southeast of the city, east of Wonosari.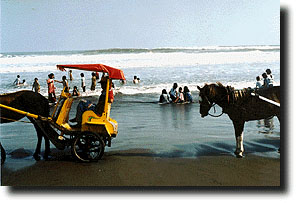 Parang Tritis Beach
IMOGIRI
The respected graveyard built by Sultan Agung (1645) on a hill 15 km south of Yogya. Many pilgrims visit this holy graveyard, believed to have strong magical power. Almost all his successors and court families from Yogya and Solo are also buried here.
It is open also for visitors on Monday from 10.00 am – 01.00 pm, Friday and Sunday from 01.00 – 04.00 pm.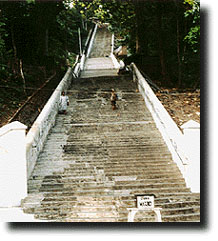 Entrance staircases to Imogiri cemetery
KASONGAN
It is a pottery center, 5 km south of Yogya on the way to Bantul. Various designs, painted and unpainted are made by the village craftsmen.
SENDANG SONO
It is a holy place for Catholic pilgrimage and comparable to Lourdes of France, located around 35 km. northwest of the city. There is a spring under the 'Sono' trees.
THE ANCIENT TEMPLES
The city is surrounded by several leading Hindu Buddhist ancient temples date back from 8 - 10 Century AD. The magnificent Borobudur around 45 km northwest of the town and the splendid Prambanan and others located 15 km, east of Yogya.

For those who are interested in more details information of business, investment and industry, these addresses may help:

Governor's Office of Yogyakarta Special Region,

KADINDA (The Indonesian Chamber of Commerce and Industry - Yogyakarta Branch),

BAPPEDA Yogyakarta (Board of Planning and Develoment of Yogyakarta)

BKPMD Yogyakarta (Yogyakarta Regional Board of Investment),

The Mayor of Yogyakarta,

Just click here for the article of 'Business, Investment and Industry'.
(Suryo S. Negoro)